Title: Corporate Creativity: How Innovation & Improvement Actually Happen
Author(s): Robinson, Alan G., Stern, Sam
Published: 1997
Description:Corporate Creativity introduces fresh, results-oriented thinking about how to manage creativity. Rich with detailed profiles of creative acts at all levels in companies around the world, it shows what corporations can do to make full use of their creative potential. After researching how creative acts actually happen in hundreds of companies, the authors identified the essential elements of corporate creativity. They show how companies can focus on those elements & turn their creativity from a hit-or-miss proposition to a strategy they can count on.
Title: Cracking Creativity: The Secrets of Creative Genius
Author(s): Michael Michalko
Published: 2001
Description:In this trailblazing book, internationally renowned business creativity expert Michael Michalko shows how creative people think—and how to put their secrets to work for you. To create this book, Michalko researched and analyzed hundreds of history's greatest thinkers—from Leonardo da Vinci to Pablo Picasso—and then brought their techniques into the modern home and workplace. The follow-up to the popular THINKERTOYS, which sold over 80,000 copies.
Title: Crash Course in Creativity
Author(s): Brian Clegg, Paul Birch
Published: 2002
Description: After an exploration of the key skills that will help you to nurture creativity, the course itself consists of a programme of 150 exercises and techniques to help you to develop your creativity either alone or as part of a group. Targeted reading ensures that the practical exercises are backed up with expert knowledge. This dynamic personal development programme is split into 30 units, all designed to be completed in your spare time in one week. Alternatively, if you are under pressure to get results, a whole unit can be fitted in within a day. The final section provides a refresher course that pulls together key learning points, ideas for further reading, and detailed tables that will help you to select the right creativity techniques to use in specific situations.
Title: Creativity: Beyond the Myth of Genius
Author(s): Robert W. Weisberg
Published: 1993
Description: In this volume, Robert Weisberg demystifies the phenomenon of creativity. Backed with case studies, psychological research findings, and investigations of the work of some of history's most creative personalities (Newton, Edison, Picasso, Mozart, and others), Weisberg demonstrates that creative thinking is an extension of our normal mental capacity--that the roots of 'genius' lie in all of us.
Title: Creativity and Innovation for Managers
Author(s): Brian Clegg
Published: 1999
Description: This book provides an excellent source for managers to understand what business creativity is, how it can benefit the company and how to get the most out of it. It looks at the pitfalls on the road to innovation and the ways to avoid them, pulling together the experiences of key practitioners in the field, both in the UK and the US.
This is not a book about techniques, though they are mentioned, but about the management issues - changing the culture, mechanisms for bring culture into an organization and how to manage differently for innovation:
A practical approach to business creativity without the hype
An agenda for making innovation happen in your business
A real world view
Title: Creativity and Innovation: The ASTD Trainer's Sourcebook
Author(s): Elaine Biech
Published: 1996
Description:Everything you need to conduct creativity training--in a day or less Training Magazine recently reported that fully 44% of firms surveyed provide creativity training. Now you can conduct your own transformational full-day, half-day, or one-hour creativity-building workshops with Creativity and Innovation: The ASTD Trainer's Sourcebook, by Elaine Biech. Packed with fully reproducible facilitator notes, training designs, participant handouts, activites, instruments, flipcharts, overheads--the works--this powerfully affordable resource gives you a total toolchest or surveying your organization's creative climate and needs, sparking fresh thinking and ideas, encouraging brainstorming and risk taking, spotting and banishing ``creativity killing'' attitudes, embracing the productive 5 Rs of creativity, and much, much more.
Title: Creativity Inc.: Building an Inventive Organization
Author(s): Jeff Mauzy,Richard Harriman
Published: 2003
Description: How to foster company-wide creativity.
Demystifies the creative process at work. Introduces an approach for systematic creativity built around examining and reworking corporate climate and leadership, ways of organizing, performance measurement and hiring practices. Authoritative author team. This book is a product of Synectics' 40 years of research into how individuals and teams can make creative ideas happen, and how they can channel the freshness of those ideas into action. Delivers on its promise. Begins with the premise that any company can be highly creative, then ties together practical advice and theoretical ideas to enable creativity on a grand scale even within the largest corporations.
Title: Creativity: Flow and the Psychology of Discovery and Invention
Author(s): Mihaly Csikszentmihalyi
Published: 1997
Description: Creativity is about capturing those moments that make life worth living. The author's objective is to offer an understanding of what leads to these moments, be it the excitement of the artist at the easel or the scientist in the lab, so that knowledge can be used to enrich people's lives. Drawing on 100 interviews with exceptional people, from biologists and physicists to politicians and business leaders, poets and artists, as well as his 30 years of research on the subject, Csikszentmihalyi uses his famous theory to explore the creative process. He discusses such ideas as why creative individuals are often seen as selfish and arrogant, and why the tortured genius is largely a myth. Most important, he clearly explains why creativity needs to be cultivated and is necessary for the future of our country, if not the world.
Title: Creativity: From Potential to Realization
Author(s): Robert J. Sternberg
Published: 2004
Description:Who is creative and why? And what does it mean to be creative? Is a creative individual a master-of-all trades or a master of one? In other words, is creativity a generalized attribute or is it a domain-specific attribute? In Creativity: The Psychology of Creative Potential and Realization, authors ponder these questions and discuss the attributes that lead people to be creative in various fields such as the arts and letters, the sciences, and business. The emphasis of this volume is on the theoretical issue of whether the attributes that lead to creativity in one domain are the same as those that lead to creativity in another domain. Researchers and students alike will find these discussions delightfully intriguing. The study of creativity is burgeoning and multidisciplinary, in that it involves approaches of social, personality, cognitive, clinical, biological, differential, developmental, and educational psychology. The book will be of interest a wide range of psychologist, researchers and students.
Title: Creativity in Education and Learning: A Guide for Teachers and Educators
Author(s): Arthur Cropley J
Published: 2001
Description:A study of creativity in the context of education, an issue of great importance for teachers and students alike. It considers just how creativity "works" and how it can be encouraged. The book has an international and an historical sweep, and features many examples.
Title: Creative People at Work: Twelve Cognitive Case Studies
Author(s): Doris B. Wallace, Howard E. Gruber
Published: 1989
Description: To demystify creative work without reducing it to simplistic formulas, Doris Wallace and Howard Gruber, one of the world's foremost authorities on creativity, have produced a unique book exploring the creative process in the arts and sciences. The book's original "evolving systems approach" treats creativity as purposeful work and integrates cognitive, emotional, aesthetic, and motivational aspects of the creative process. Twelve revealing case studies explore the work of such diverse people as William Wordsworth, Albert Einstein, Jean Piaget, Anais Nin, and Charles Darwin. The case study approach is discussed in relation to other methods such as biography, autobiography, and psychobiology. Emphasis is given to the uniqueness of each creative person; the social nature of creative work is also treated without losing the sense of the individual. A final chapter considers the relationship between creativity and morality in the nuclear age. In addition to developmental psychologists and cognitive scientists, this study offers fascinating insights for all readers interested in the history of ideas, scientific discovery, artistic innovation, and the interplay of intuition, inspiration, and purposeful work.
Title: Creativity: When East Meets West
Author(s): Sing Lau, Anna H. H. Hui, Grace Y. C. Ng
Published: 2004
Description: What actually is creativity? And what contributes to itsconceptualization and development? For decades, these and otherquestions have fascinated researchers, educators, parents andlaypeople alike, and equally so in the East and West. This interestingcollection of articles is an attempt at exploring and answering theabove questions from both the Eastern and Westernperspectives. Readers may find some answers stimulating, and othersbewildering. This is in fact the reality and fascination of creativityresearch and education. It is hoped that readers will share the joy ofreading such a road map.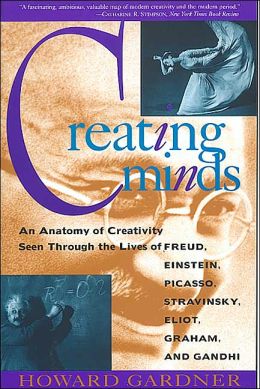 Title: Creating Minds: An Anatomy of Creativity Seen Through the Lives of Freud, Einstein, Picasso, Stravinsky, Eliot, Graham, and Ghandi
Author(s): Howard E. Gardner
Published: 1993
Description: Since it was first published in 1993, Creating Minds has served as a peerless guide to the creative self. Now available as a paperback reissue with a new introduction by the author, the book uses portraits of seven extraordinary individuals to reveal the patterns that drive the creative process — and to demonstrate how circumstance also plays an indispensable role in creative success.
Title: Creativity is forever
Author(s): Gary A. Davis
Published: 1983
Description: Great textbook detailing the creativity within a psychological context; it explores the different types of creativity, creative individuals, and how to boost creative thought. A must read for anyone interested in imagination!
Title: Creativity and the Management of Change
Author(s): Tudor Rickards
Published: 1999
Description: This ground-breaking book provides an overview of key business topics for advanced students following a business studies course. In addition, it describes how readers can build a "platform of understanding" of conventional wisdom, and how to study that platform in order to discover new and potentially valuable ideas that depart from the supplied orthodox views.
Title: Creativity in Business
Author(s): Michael Ray, Rochelle Myers
Published: 1994
Description: Creativity is certainly about generating original ideas, developing new approaches, taking risks and making a a unique contribution. But ultimately it boils down to bringing your essential Selfyour soul andpassionto your work and, indeed, to everything you do.
This exploration of innovative thinking in companies of all kinds "shows us how creativity in business can enrich us, and those who work with us." -- Spencer Johnson, co-author, The One Minute Manager